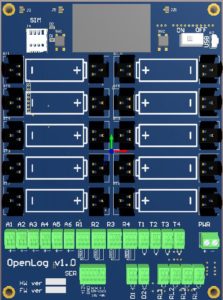 Open Source Datalogger, the new project developed in collaboration with the tested group of professionals of www.visualizza3d.com allows to acquire analogue inputs, PT100, PT1000, in thermocouple, digital inputs, data coming from peripherals connected via RS232 or RS485 with ModBus protocols or owners.
It offers a high level of connectivity by integrating on board a Radio transmitter on a free frequency of 868MHz that allows connections with remote units of the same type up to 3 km away.
Bluetooth interface, with which through the APP for Android it is possible to configure the parameters of the inputs and monitor the status of the input values ​​in real time. LoraWAN connectivity with integrated module on board the data logger.
GPRS connectivity for sending data to our Cloud.
Using the USB port, it is possible to configure a new sensor, monitor the status of the inputs, and download the data stored in the memory (128MByte) on the system.
Features:
• 6 analog inputs, configurable 0..1V or 0..10V or 0..20mA or 4..20mA
• 4 PT100 or PT1000 inputs or resistive measurement
• 4 inputs for thermocouple
• 2 digital inputs for pulse sampling or digital states
• 1 serial input RS232 or RS485 with ModBus protocol or owner
• 4 relay outputs
• BOX IP65 25x16x8 cm, 400gr
• power supply with 10 lithium batteries, connected in parallel, each 4V @ 3A / h for a total of 30A / h that guarantee a typical autonomy of 6 months of acquisitions
• integrated recharge from solar panel or external 12V power supply
• display for real time display of the data acquired by the sensors and the serial
• The system is supplied with compiled libraries that offer connectivity to the peripherals on the board, and is also supplied complete with wiring diagram. The development environment is Open Source: Texas Instruments Code Composer. In this way the end user can write his own application using the library developed by us to interface with the machine's hardware.